The Toy Insider
Adventure Publishing Group has been the leading source of information for the toy industry since 1984. Their publications, including The Toy Insider, The Toy Book, and Pop Insider, are trusted by both consumers and trade professionals for the latest news on children's toys, technology, and entertainment. As the top resource for toys and gifts for kids, Adventure Publishing Group is considered the go-to source for toy lovers of all ages.
Visit Site
TheToyInsider.com
In 2023, The Toy Insider unveiled a new logo, marking the first update in 17 years. Adventure Publishing Group enlisted the help of WebDevStudios to create a custom website redesign, which involved consolidating three separate websites into one main platform using WordPress Multisite. This streamlining effort aimed to simplify admin management and workflow.
Custom Website Redesign
Our goal for The Toy Insider was to create a custom website redesign that was both eye-catching and useful for their visitors. We aimed to build a user-centric website that meets and exceeds the users' expectations, encouraging them to return and share their positive experiences with others.
Our team's design objectives included the following outcomes: intuitive navigation that helps users easily navigate their way around the site with a clear and logical layout that makes discovering content a breeze; engaging design that is visually appealing and modern and captures the user's attention; improved usability by streamlining UI/UX to make it simpler and more enjoyable for users to interact with The Toy Insider.
We prioritized performance and fast load times to provide users with a fast and smooth experience. Mobile responsive design was also a big priority for The Toy Insider to deliver a seamless browsing experience across all available devices.
During the strategy and discovery phase of this custom website design WordPress Multisite, WebDevStudios joined forces with key stakeholders from The Toy Insider to thoroughly assess needs, meticulously document the site's requirements, and craft a comprehensive implementation plan that was in line with the goals and budget of their team.
WebDevStudios started by creating a style guide for the site that would drive consistency throughout its pages on elements like typography, colors, and design elements. From there, we worked with their team in creating 12 different design mockups to provide the framework of each of the various sections of the site, with an emphasis on clean usability, accessibility, and responsive design to ensure success across multiple devices.
Data Migration
Adventure Publishing Group's existing WordPress sites were migrated to the organization's new WordPress Multisite with the help of WebDevStudios. We used a custom script and plugins like WP All Import Pro and WP All Export Pro to efficiently transfer posts, pages, custom post types, forms, taxonomies, media, and comments.
To address Adventure Publishing Group's specific workflow needs, specialized scripts were developed. For instance, the access level of admin users who previously had access to only two of the organization's subsites remained unchanged after the migration.
Moreover, WebDevStudios' engineering team created a custom template that allowed the client's team to easily import products. We also wrote a custom command for Adventure Publishing Group that ensured the correct authors of posts were preserved during the migration without any errors.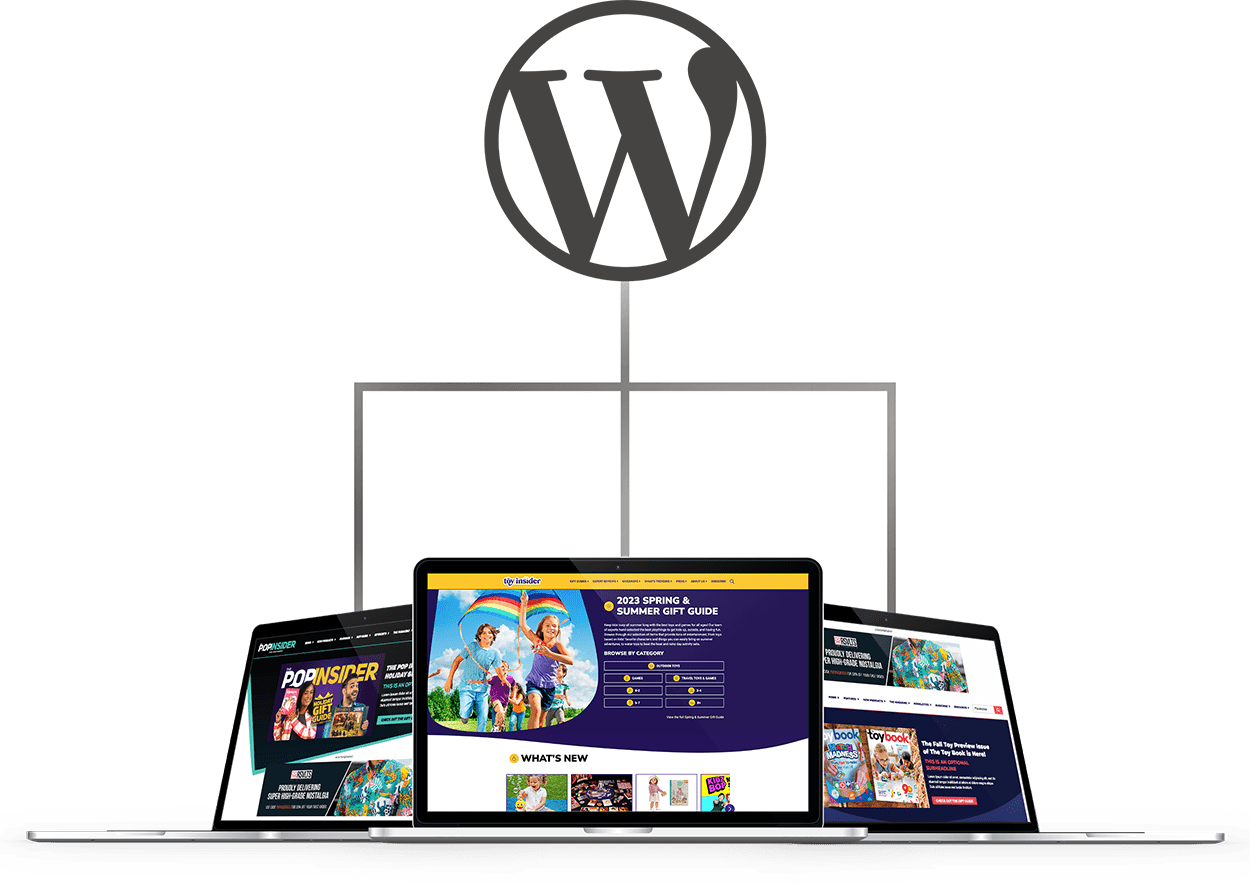 WordPress Multisite
When Adventure Publishing Group initially approached WebDevStudios, the organization owned and managed three different website properties built by three different website developers using three different page builders.
The company has a small editorial team with no time for troubleshooting. Streamlining the group's workflow on the backend could result in maximizing staff time, reducing bounce rate, and encouraging users to go down a rabbit hole of content. These goals were accomplished by configuring a WordPress Multisite platform for all three websites.
With WordPress Multisite, Adventure Publishing Group can create and manage multiple WordPress websites from a single installation. This feature allows them to activate plugins for the entire network, making plugin updates more efficient.
With one parent theme and three child themes, each of the three sites are similar in structure and design. Editors have single login access to change branding elements such as logos and colors, and plugins are shared across the network for ease of updating and consistent functionality between the sites. For example, a cross-posting plugin is used to share content between the three websites so that editors can create content just once and publish it to each site, as necessary.
Customized Features
AdSanity Advertising Integration
Adventure Publishing Group's editorial team required the ability to create and add ads to posts, pages, and widget areas as necessary. WebDevStudios met this requirement by reconfiguring the AdSanity plugin and Gutenberg block.
AdSanity is a very useful suite of advertising tools that the team at The Toy Insider had already been using with its previous websites. However, with the new WordPress Multisite platform, AdSanity required specific reconfigurations to meet The Toy Insider's unique needs.
For instance, our plugin development experts reconfigured the AdSanity plugin to rotate and randomize ads in a way that did not hinder page load. The result was a performance gain for the client.
Additionally, our team stopped the plugin from performing some unnecessary functionalities on the admin side, which resulted in a cleaner and more optimized editor experience on the backend. Simply put, the AdSanity admin experience runs faster and lighter.
Custom-Built Mega Menu
Normally, a website the size of The Toy Insider would rely on a Mega Menu, which is a dropdown menu displaying more content than a standard one. Mega Menus usually include an array of content such as text, images, buttons, and even other menus, making it visually appealing on your WordPress site's navigation.
While there are benefits to having a Mega Menu, they can also be heavy and disrupt the user experience. For The Toy Insider, the WebDevStudios frontend development team custom-built a lighter version of it.
Using a combination of Advanced Custom Fields and JavaScript, our team modified the WordPress menu to display it in a way that met the publication's requirements. In the backend, The Toy Insider admin team can select how the dropdown menu options are shown, such as selecting a specified amount of columns or no columns at all.
Our team's customizations for The Toy Insider's Mega Menu also include a specially customized mobile view we created from scratch.
New Product Showcase Block
WebDevStudios developed a custom code for Adventure Publishing Group that allows their editors to showcase the 12 most recent posts from their 'Products' custom post type. This is achieved through a New Product Showcase Block as an Advanced Custom Fields Gutenberg block.
By using this block, editors can highlight new products and direct readers to the latest products on the website. The customization also allows editors to easily customize the block's heading, icon, background color, background topper image, and button text.
The New Product Showcase Block features a featured image, post title, the manufacturer's name, and a button that links to the main archive page for the 'Products' custom post type.
Product Block
Adventure Publishing Group needed a flexible Product Block that would enable their editors to choose and embed one or more products from their custom post type 'Products' on any post or page. The editors wanted to use this block to create various content, such as product review posts and listicle posts, by embedding product information into their posts.
To meet their requirements, WebDevStudios created custom code for a Product Block as an Advanced Custom Fields Gutenberg block. It pulls data from the 'Products' custom post type, and editors can select one or more products using a related field while creating a post. The product's associated post provides the images and text for the block.