Drupal Con is a bi-annual mass gathering of Drupal developers and enthusiasts. This year the event will take place March 4-7th in Washington DC.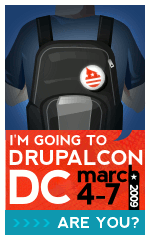 The founders of WebDevStudios.com, Brad and Brian, will both be attending the developer conference this year. We are really looking forward to the event and can't wait to meet other Drupal enthusiasts.
We love working with Drupal and utilizing it's endlessly flexible open-source framework. Drupal is a powerhouse and if used correctly can build some amazing sites including E-Commerce and Social Networking websites.
With over 100 sessions on the schedule, DrupalCon 2009 is guaranteed to provide a wealth of knowledge and information. We pride ourselves on staying current with the platforms we specialize in. We are always looking to expand our knowledge and skill set and DrupalCon is the place to do it!
If you would like to meet up at the show please drop us a line or leave a comment on this post. See you at DrupalCon!