At our website design and development agency, we like to say we pride ourselves on being home to a smart, hardworking, and dedicated group of individuals. Today, we are announcing an addition that group. Meet Laura Byrne, Digital Strategist and the newest member of the WebDevStudios team.
In her current role, Laura bridges the gap between sales and project operations focusing on client needs analysis, requirements gathering, and project planning. She works alongside our Technical Strategist and UX Designer during the strategy and planning phase of a website project to ensure designs, project requirements, and plans are well-documented.
Laura plays an important part of successfully transitioning the website project to our engineering and project management teams. Keep reading to learn more about her.
Laura Byrne, Digital Strategist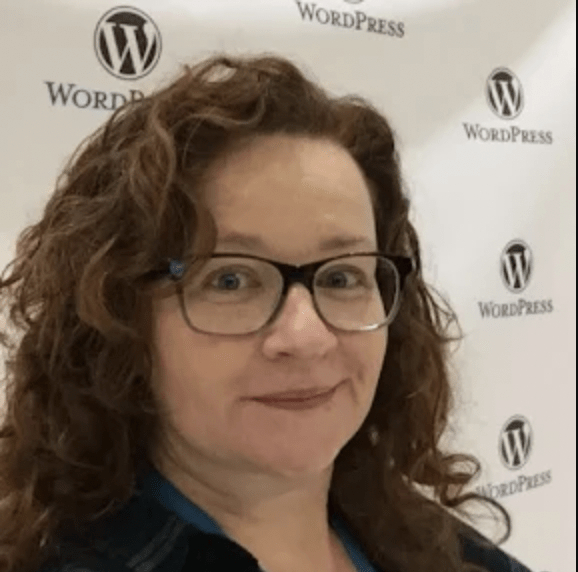 The first thing you should know about Laura is that she has a long history in the WordPress community, making her an important asset to the WebDevStudios team. Laura started out in WordPress in 2006 when she and friend started a website and discussion forum for a book.
"Our little site soon went viral, and we needed help scaling up. My then-husband was helping us on the more technical aspects, and he found out about the inaugural WordCamp NYC roughly 48 hours before it kicked off. He attended, got sucked into the community, and eventually I did too. What started as a hobby, transformed into a career," she explains.
Laura moved around a bit, attending WordPress Meetups in both North New Jersey and the Greater Philadelphia areas. At first, she was reluctant to add to the meetup conversations, but she soon realized that her input as a content creator was welcomed.
Eventually, Laura went on to be one of the founding members of the WordPress Marketing Team where she co-authored the WordPress Jargon Glossary. Since her introduction the WordPress community, she has spoken at over 20 WordCamps, covering various topics such as marketing, social media integration, remote team management, the Block Editor, and more.
In the past, Laura has been a WordCamp Philly organizer, as well as for WordCamp Montclair, where she is presently a co-organizer. The event takes place at Montclair State University on June 25, 2022. Speaker submissions are open right now through April 14th.  You can submit your talk at the WordCamp Montclair website.
"We are going to be the first live WordCamp post-COVID in the Western Hemisphere!" Laura exclaims. "And, it's critical that we have diverse speakers on topics across the areas of business, design, development, and content as we gather in-person for the first time in almost three years."
Aside from the community, Laura also loves WordPress as a technology. One of Laura's favorite things about it is the Block Editor. In fact, she likes it so much, she wrote a blog post about it.
"I can create and edit content in visually appealing, lightning fast, and accurate ways. It doesn't matter if I am freelance writing, volunteering as webmaster for a local non-profit, or advising on an enterprise build," she explains her admiration.
Laura adds that what she also appreciates about WordPress is that it offers a solution for most anything and that those solutions are almost always highly versatile and user friendly. "If you have a question, the folks who write themes and plugins are super helpful," she says.
Over the years, Laura's met a variety of WebDevStudios (WDS) team members at meetups, WordCamps, and online. It was these interactions and the impressions they left that inspired her to join our team.
"Without exception, they were all the friendliest and most giving of people," Laura says. "I also knew of folks whose work I admired who were then hired by WDS. Regardless of their path, everyone seemed truly happy in their new positions. I really think that kind of enthusiasm, loyalty, and infectious camaraderie does not happen by accident. Company culture is important, it is thoughtfully planned, and it comes from the top down."
Part of what makes our company culture have a positive impact on WebDevStudios teammates is a very thoughtful and warm onboarding process. Laura reports that hers was enjoyable.
"Literally nothing is left to chance, but at the same time you don't feel like you are being micromanaged. It's a mix of one-on-one training, documentation, and observation," clarifies Laura. "There was also a balance of Zoom calls and Slack communication which aids in asynchronous remote work. I didn't face hurdles of poorly written or outdated documentation; things are routinely reviewed and updated. You might be working from home, but you don't feel alone or isolated. I can't say enough about how utterly supportive and welcoming my strategy teammates Jennifer Cooley and Corey Collins have been."
Laura says what she's looking forward to most working at WDS is seeing the first website project she came into from the kick-off go all the way through our various processes to launch. "In other words, I'm excited about seeing something go from start to finish," she says.
WebDevStudios Is Hiring
How would you like to be a part of the WebDevStudios team just like Laura? We're hiring! Visit our Careers page to find the perfect opportunity for you.